WIMBERLEY, Texas — Whether or not you subscribe to the adage that the devil always has the best music, you can take it on faith that anytime he pops up for a cameo in Ray Wylie Hubbard song, the results are gonna be pretty damned entertaining. And as any fan of the Hubbard cannon knows, Old Scratch pops up in his songs a lot — nearly as often as all of Hubbard's wise-cracking black birds, lyrical and musical nods to Lightnin' Hopkins, bad-ass women (usually Hubbard's own wife, Judy), and a myriad of other grifters, ruffians, and scrappy cats of the gnarly and general lowdown variety. Somewhere or other on just about every Ray Wylie Hubbard album, the devil always gets his due — and he's now even worked his way up to top billing on the acclaimed songwriter's latest, Tell the Devil I'm Getting There as Fast as I Can.
With its Tex-Mex influence and rock 'n' roll vibe, emerging band The Last Bandoleros is pushing the boundaries of the country music genre. The Last Bandoleros combine their unique cultural experiences with rare musical camaraderie, and their exuberance and joy are contagious. In today's fast-moving world of instantaneous information and converging influences, their original yet universal sound might just be best labeled "great music." Having recently toured with Sting, and receiving rave reviews from Rolling Stone, among others, The Last Bandoleros are undoubtedly "ones to watch" — People Magazine.
"The Last Bandoleros' music is undeniably refreshing – and glaringly unorthodox by today's standards…the most thrilling new country act currently on a major Nashville label." — Rolling Stone
"With seamless transitions from country to rock to Tejano to pop, this foursome has a sound that's almost impossible to define, and even harder to resist." — Entertainment Weekly
"Tex-Mex meets harmony-rich Beatlesque pop, with a healthy dollop of boy-pop charisma." — Hits Magazine
R.W. Hampton is one of the leading Western Entertainers in America today. His fans come from all walks of life. He's loved by cowboys, cowgirls, ranch hands and rodeo stars, but also by people who have never seen a cow up close – or care to. R.W. is known for his patriotism, his family values and Christian beliefs. His voice & songs resonate with audiences worldwide. He is today's voice of Cowboy Music.
Blessed with a wonderfully rich baritone voice, R.W. has a quality of genuineness about him that resonates when he's on stage, in person or just through the words of his songs. After twenty-two years in the entertainment business, R.W. is still pure cowboy, singing about what he loves best. Working cowboys in today's world are unique on their own, but being genuine in a day when even reality television programs are set-up and staged is even more refreshing, and R.W.'s audiences and fans appreciate that.
Today R.W. lives with his wife and their two youngest children on their Clearview Ranch at the foot of the Sangre de Cristo Mountains south of Cimarron, New Mexico. When he's not headlining cowboy concerts and western music events across the nation, R.W. spends most of his time at the ranch doing the work he loves.
Composer, songwriter and musician. Robert Mirabal has won many honors including two-time Native American Artist of the Year, three-time Songwriter of the Year, a 2006 GRAMMY Award for Sacred Ground, and his 2008 GRAMMY Award for Johnny Whitehorse Totemic Flute Chants. Robert's work blends all of his influences into a musical landscape that conjures up both the historic and contemporary West.
Robert lives with his family at the foot of the sacred Taos Mountain. Keeping the centuries-old customs of the Taos Pueblo people, Robert has been described as a Native American "Renaissance man" – musician, composer, painter, master craftsman, poet, actor, screenwriter, horseman and farmer. His first flute came when he was 18 with money he borrowed from his grandmother. Shortly afterward he had the opportunity to meet Native American flute player R. Carlos Nakai who greatly influenced him. In the years since, Robert has continued the evolution of his flute making and has also become an accomplished novelist, poet, craftsman, composer, dancer, actor, painter, sculptor, concert performer and recording artist.
Inspired by the mountains of Colorado where she was born and raised, Carin Mari is a songwriter from the heart who is passionate about playing her own brand of music.

Country/Americana Music quickly became her passion summer of 2001, when dear friend and mentor, Michael Martin Murphey, suggested that Carin learn "I Want to be a Cowboy's Sweetheart." Not a far stretch from her roots, this style of music fit her lifestyle perfectly since she was already an avid horseback rider with a love for the western way of life. After sixteen years of continued dedication, her talents as a guitarist/singer/songwriter have won her numerous awards, including 2009 Entertainer and Songwriter of the year from the NACMA, Southwest Regional Winner for the Texaco Country Showdown, Female Vocalist/Female Entertainer of the year at South Plains College, and runner-up in the 2010 Texaco Country Showdown National Final. For nine years, Carin and her two brothers performed coast-to-coast as the band "Carin Mari & Pony Express," winning numerous awards and playing formidable venues. In January 2011, Carin felt her dreams coming true as she performed one of her original songs on stage at the historic Ryman Auditorium in Nashville, as a competitor in the Texaco Country Showdown.
For the last three years, Carin has dedicated her time to writing music and playing shows across the Country. Two years in a row, Carin was thrilled to be a standing band member and to open the show on Michael Martin Murphey's Cowboy Christmas Tour.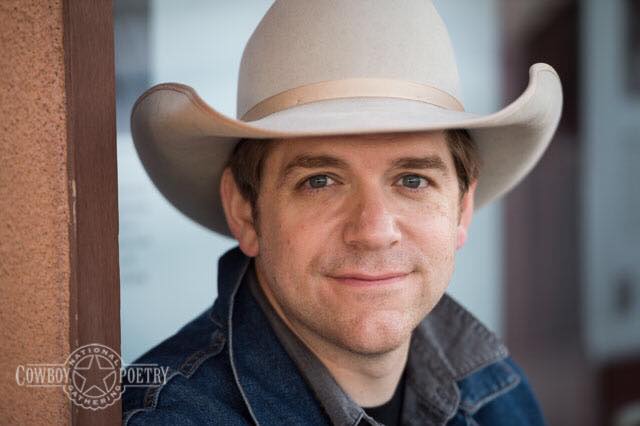 Andy Hedges is a songster, reciter, and guitarist. His varied repertoire includes classic cowboy poetry recitations, obscure cowboy songs, dust bowl ballads, and blues. Andy taught himself to play the guitar when he was 14 and began collecting classic cowboy poems and traditional cowboy songs. He has released 10 albums including four joint projects with songwriter Andy Wilkinson.
Andy also hosts a podcast, Cowboy Crossroads which features interviews with poets, musicians, songwriters and historians. Andy lives in Lubbock, Texas with his wife and children.
"I've always admired Andy Hedges for his longstanding fascination for classic cowboy songs. He sings 'em with just the right amount of grit and wry cowpoke humor." - Michael Martin Murphey
Dennis is a tribally enrolled member of the Navajo Nation of Arizona. His specialties include Navajo Sandpainting, Silversmithing, Northern Traditional Style Dances, Hoop Dance and Native Flute. He graduated in 1991 from Haskell Indian Nations University in Kansas and is currently a substitute teacher. Beginning in 1987, Dennis dedicated his teaching career thru American Indian "Music, Songs and Dances". He is a Champion pow-wow style dancer and has performed twice in Japan and six tours of the United Kingdom. He's performed in 38 out of 50 United States and his passion as a solo artist is apparent by those who witness his programs. Such performances include 5 times at FARM AID concerts with Willie Nelson and Neil Young. WESTFEST in Minnesota with John Anderson and since 2003 he has toured with BlackHawk as their "SpiritDancer". In 2015-16 he was recognized as the Native American "Educator of the Year" in the State of Kansas. Let's show our appreciation with a warm round of applause and welcome Mr. Roger's to WESTFEST.